Rocky Mountain Stair Works – Salt Lake City & Park City Custom Curved Stairs Including Molding and Iron Work
Our curved stairs provides many benefits and features.

Rocky Mountain Stair will give design assistance and provide suggestions in the planning stage of your project.
Call us today and set up an appointment.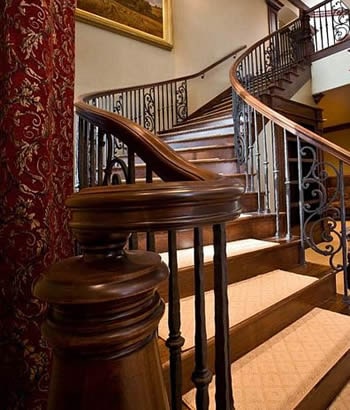 To make sure the stairs fit accurately, Rocky Mountain Stair Works offers a complete diagram of the project of the curved staircase before installation takes place. We then allow the customer to look them over and return them with the approval before we start the installation. You need to allow at least four to five weeks for delivery of the staircase to the client. This four to five weeks lead-time begins after we get the approved drawings or diagrams back from the customer as stated above. You can trust us to completely assemble the staircase and with the highly skilled craftsmen working on your project you can be sure of all the various stair components fitting accurately.
We eliminate the use of finger joints on our rails, because they are shaped, rather than bent, into the proper curve and pitch of the staircase.

To eliminate squeaking and deflection on our tread, we provide a tongue and groove procedure that is glued and then pocket screwed together. We assemble your staircase in a factory setting, giving us complete control of the product from the beginning to the end of the project. Allowing us to set strict guidelines that will ensure a high quality product that fits properly when installed.
Rocky Mountain Stair Works uses stud blocks to help in the framing of radiused walls or pre-engineered beaming on an open under or freestanding staircase for our pre-assembled stairs. Soffit backing is included to ease the framing of soffit to the underside of the staircase.
Typical wood types used:
Cherry
Knotty Alder
Clear Alder
Walnut
Hickory
Mahogany
White Oak
Red Oak
Maple
Ask for all our other species (to match each project's woodwork accurately)
Our continuous handrails are horizontally laminated and shaped. They will not spring back and cause squeaks and wobbles like bent rails do. This style reduces glue line visibility as well.
Other Features We Use:
Curved and mitered tread returns
Mitered riser and skirtboards joints
Trim pieces for skirtboards (they eliminate end grain visibility)
Non-finger jointed rails and landing treads (For a clean and smooth finish).
We color and grain match skirtboards creating an appealing décor to your staircase.
You can depend on Rocky Mountain Stair to follow Architectural Woodwork Institute (AWI) who carry very high quality standards.