Rocky Mountain Stair Works – Salt Lake City & Park City Innovation and Stair Design Including Railing and Molding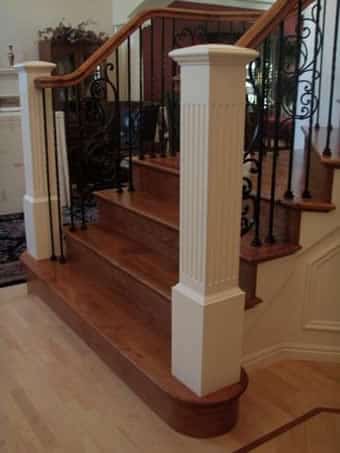 Rocky Mountain Stair Works starts by working with you to draw up a design on paper, creating a detailed drawing of what you want. We make sure our engineers stay with or goes beyond the most strictest standards when building a staircase. From the beginning, to the finishing touches of a project Rocky Mountain Stair Works, works with state of art technology. Our company uses only highly skilled technicians in their building staircases and handrails. Giving our customers many years of repair free service.
Our continuous handrails are horizontally laminated and shaped, meaning they will not spring back like bent rails do. We offer a wide variety of custom profiles that have an elegant, face grain top surface to it.
Our Treads
Rocky Mountain Stair Works uses a radiused return for added elegance and mitered corners on our treads. Thus creating a decorative, elegant look. Our treads have riser to stringer corners that is mitered allowing only face grains to show. We use only the highest quality grade materials.
Our Volutes
Rocky Mountain Stair Works Volutes are spiral descending volutes that are made to fit accurately to the specific pitch of your handrail design. These descending volutes lower the rail height by about 6 inches. This creates an exciting look to the base of the stairway.
Your standard volutes are flat with a short easing attachment on them. When using this standard volute it creates an awkward, tall, abrupt appearance to the beginning of your stairway. So call us today for the stairway of your dreams!