Rocky Mountain Stair Works – Serving Salt Lake City & Park City With Quality Spiral Stairs Installed and Designed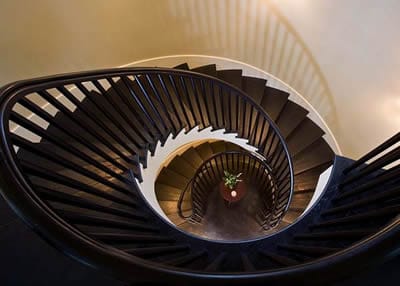 To make sure the stairs fit accurately, Rocky Mountain Stair Works offers a complete diagram of the project of the spiraled staircase before installation takes place. We then allow you, the customer to look them over and return them with the approval before we start the installation. You need to allow at least four to five weeks for delivery of the staircase. This four to five weeks lead-time begins after we get the approved drawings or diagrams back from the customer as stated above.
Rocky Mountain Stair Works will pre-drill the handrail for the balusters to the proper pitch of the stair to make it easier to assemble. Pre-fit rail bolt systems will be installed on the spiral handrail for easier reassembly at the project location. We have all the stair components completely sanded to 100 grit before we package it.
Features:
1 5/8″ solid oak treads and platform on the 4′ diameter stair and 2″ treads and platform on the 5′, 5′ 4″, and 6′ diameter stairs.
Our wood spirals offer a smooth center column with floating treads on it.
We assemble your staircase in a factory setting, giving us complete control of the product from the beginning to the end of the project. Allowing us to set strict guidelines that will ensure a high quality product that fits properly when installed.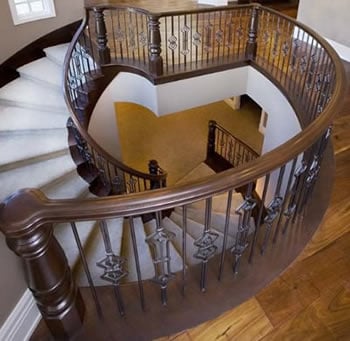 We can build any type of styles you are looking for. Call for more information.
Hardwood spiral wood types:
Red oak
Knotty Alder
Clear Alder
Cherry
Mahogany
Walnut
White oak
Maple
Hickory
Ask for all our other species (to match each project's woodwork accurately)
For a uniform fit rail fittings are matched with the rail.
You can depend on Rocky Mountain Stair to follow Architectural Woodwork Institute (AWI) who carry very high quality standards.